Jeffrey Bell -- Gold Standard 2012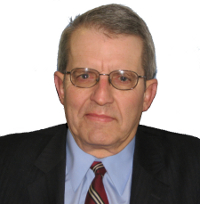 In 2010, Jeffrey Bell became director of policy of the American Principles Project, a Washington-based advocacy group. He also leads APP's GoldStandard2012 campaign.
From 1988 to 2000, Bell served as president of Lehrman Bell Mueller Cannon, an economic and political forecasting company based in Arlington, Virginia. Since becoming a principal of Capital City Partners, a Washington public affairs firm founded in 2000, he has assisted clients advocating the Bush tax cuts of 2001-2003, the President's faith-based initiative, and immigration reform. Between 2004 and 2007, he participated in Capital City Partners' contract with the Department of Health and Human Services to promote greater awareness of human trafficking in the United States.
In 1975 Bell developed former Governor Ronald Reagan's first proposals for Federal tax and budget reduction. In 1978, he became an early proponent of the Kemp-Roth tax cut bill and upset an incumbent U.S. Senator, Clifford Case, in the New Jersey Republican primary. He was defeated in the general election by Democrat Bill Bradley.
In 1980, Bell produced and co-wrote the television commercials used by the Reagan presidential campaign in New Hampshire and subsequent primaries. He was also elected as a Reagan delegate from New Jersey to that year's Republican national convention. As deputy chairman of the pro-Reagan group Citizens for America, he played an active role in passage of the Tax Reform Act of 1986. In addition to his role in the 1980 Reagan campaign, Bell was on the national campaign staff of Richard Nixon in 1968 and Reagan in 1976. In 1988, he was national campaign coordinator of Kemp for President and in 2000 was senior consultant to Bauer for President.
A graduate of Columbia and a veteran of the U.S. Army in Vietnam, Bell has served as a fellow of the Kennedy Institute of Politics at Harvard, visiting professor at the Eagleton Institute at Rutgers, and as the DeWitt Wallace Fellow in Communications at the American Enterprise Institute in Washington. He presently serves on the Board of Directors of the American Conservative Union and of the Campaign Finance Institute at George Washington University. Since 2007, he has been a visiting fellow at the Ethics and Public Policy Center in Washington.
Bell has written articles for many publications, most recently the Wall Street Journal, the Weekly Standard, and National Review. He is author of Populism and Elitism: Politics in the Age of Equality, which was called by Fred Barnes in the New Republic "the most important political book" of 1992. His second book, Social Conservatism: The Movement that Polarized American Politics, will be published by Encounter Books in early 2012.