Ken Ivory -- Utah House of Representatives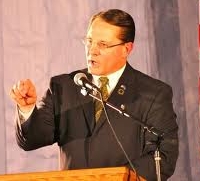 Kenneth (Ken) R. Ivory, Esq., represents Utah's 47th District in the State House of Representatives. He has been described as "a bright mind and articulate communicator who benefits from an enormous catalog of knowledge ... amassed from his life experience."
The passage of his paradigm-shifting "Where's the Line" legislation ranks high among the most notable accomplishments of his first term of service in the Utah House. This landmark bill calls for fiscal discipline and a return to sound constitutional principles, especially regarding the separation of powers between the general and state governments.
Ken is also the principal of Ivory law, P.C. where his practice focuses on mediation, general business, commercial litigation, and estate planning. He graduated, Cum Laude, from California Western School of Law in San Diego, California in 1994 and is admitted to practice law in both Utah and Nevada.
Prior to law school, Ken, who is fluent in both Spanish and Japanese, was employed as Coordinator of International Relations in the Office of the Mayor, City of Osaka, Japan. Ken also served as counsel for the Japanese Olympic Committee during the Games and as general counsel for a U.S. subsidiary of a publicly-traded Japanese company, JCM American Corporation. Ken has taught business law and global management for the University of Phoenix, Las Vegas campus and teaches at the West Jordan SLCC LDS Institute.