Sean Reyes -- Secure American Gold Exchange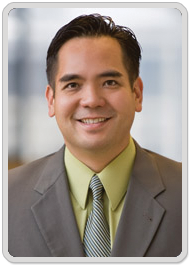 Sean D. Reyes is a candidate for Utah Attorney General in 2012. He is also General Counsel for eTAGZ, Inc., a Utah technology, media and marketing company and serves as a Director of Secure American Gold Exchange, a sponsor of the Utah Monetary Summit.
After graduating summa cum laude from Brigham Young University in 1994 and earning a JD from UC Berkeley in 1997, Sean spent over thirteen years at Parsons Behle & Latimer, Utah's largest law firm, litigating some of the state's largest and highest profile cases.
Sean was selected as Utah Young Lawyer of the Year and one of the Forty Under Forty most influential in Utah business before being named the Nation's Most Outstanding Young Lawyer in 2008 by the American Bar Association and one of the country's top young business leaders by several local and national organizations.
Appointed in 2009 by the United States Congress through Senate Minority Leader Mitch McConnell and President Barak Obama, Sean served as a federal Commissioner for two years.
Sean has served as a county, state and national delegate for the Republican Party. He has also served as a small claims judge for over a decade, an ex-officio member of the Utah State Bar Commission and an appointee to the prestigious Utah Third Judicial Nominating Commission. Sean led a number of organizations such as First Utah Bank's International Board, Utah Minority Bar Association, Utah Hispanic Chamber of Commerce and the Somos Education Foundation to national acclaim.
Before joining eTAGZ in 2010, Sean had written briefs or argued before the Utah Supreme Court, 10th Circuit Court of Appeals and the United States Supreme Court. He spends much time serving on community and non-profit boards ranging from Utah Fast Pass (raising money for families of fallen or injured law enforcement officers), to Fight the New Drug (anti-pornography) and Red Cross Heroes (recognizing heroism and bravery in the community). Whether lecturing, teaching or in the courtroom or boardroom, Sean has become one of Utah's most successful, recognized and admired young professionals.
As a very fiscally conservative candidate and a longtime advocate of sound money policy and practice, Sean is poised to be a legal defender of sound money principles here in Utah and throughout the country. Sean resides in Cottonwood Heights, Utah, is married to Saysha Fawson and has six amazing children.