Dr. Edwin Vieira, Esq. -- Constitutional Law Attorney and Scholar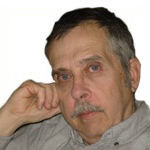 Dr. Vieira received his early training in the law at Harvard, an institution from which he holds four degrees: A.B. (Harvard College), A.M. and Ph.D. (Harvard Graduate School of Arts and Sciences), and J.D. (Harvard Law School).
For nearly four decades he has been a practicing attorney, specializing in cases that raise issues of constitutional law. He has argued numerous cases of import before the U.S. Supreme Court and authored a variety of monographs and articles in scholarly journals. Among his latest works include
Pieces of Eight: The Monetary Powers and Disabilities of the United States Constitution
(2d rev. ed. 2002), a comprehensive study of American monetary law and history viewed from a constitutional perspective.
Dr. Vieira has drafted model monetary legislation designed to restore gold and silver as optional media of exchange. His proposed statutory framework has been introduced in various states, including New Hampshire in 2005 and Montana in 2009. His work has inspired like-minded legislative efforts in over a dozen states nationwide -- including the Utah Legal Tender Act passed in the spring of 2011.