Savneet Singh -- Gold Bullion International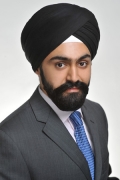 Savneet Singh is the chief executive officer and co-founder of Gold Bullion International (GBI), a leading precious metals provider and vaulting service with secured storage facilities in London, New York, Zurich and Salt Lake City.
Before joining GBI, Mr. Singh was an investment analyst at Chilton Investment Company where he covered investments in the technology, alternative energy and infrastructure space. Prior to Chilton, Mr. Singh was at Morgan Stanley in the investment banking division where he worked on large financial sponsor and strategic company transactions. Mr. Singh received his B.S. in Applied Economics and Management from Cornell University and currently serves on the boards of Ecologic Solutions and Stiki Digital.